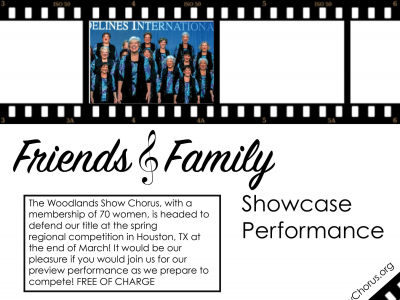 Come one, come all on Monday evening, March 16th!! One and all are invited to join The Woodlands Show Chorus that evening to enjoy our Friends & Family night.  The purpose of F&F night is for the chorus to perform our two contest songs for a "live" audience. We spend most of our rehearsals with stop's and start's, repeating various phrases until we conquer a vocal technique, or achieve a planned dynamic change and so on. Performing for an audience helps us to prepare for the adrenalin rush that floods a performer's body when performing for an honest-to-goodness audience. You would be doing us a favor by attending and giving us your reaction to our performance (which we hope would be applause!). This performance also serves as a means of sharing our musical art form with the local community in addition to showing our friends and family members the results of our educational efforts and our rehearsals.
Our contest songs for this regional competition are: "Sweet Georgia Brown" and "Love Letters". Our Master Director Betty Clipman works tirelessly with us to ensure that we can perform the songs with our best vocal skills and with excellent performance skills.  
On March 16, the chorus will rehearse from approximately 7:00 – 8:15. After changing into our sassy red costumes, we will perform our two contest songs for the audience. A number of quartets associated with TWSC will then perform, two songs per quartet. If our agenda goes as it has in previous years, the chorus will then perform our two contest songs again. The hope is that each singer can reflect on our first performance of the evening, and make mental notes about improvements each of us can make during the second chorus performance.  We may also perform additional music that we would sing on the Show of Champions performance if we win the Regional Contest on March 28.
The Woodlands Show Chorus belongs to The Great Gulf Coast Region 10 of Sweet Adelines International. The region includes most of Texas, all of Louisiana, the southern half of Mississippi, and the southern half of Alabama. There are 20+ choruses within the region. The vast majority of those choruses will compete on March 28.
The Region 10 competition will take place at the Hilton Houston North on Greenspoint Drive, Houston on March 27 – 28. Tickets will be available at the door. We would love to see you there!!