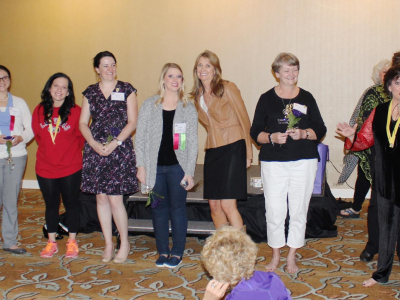 During  the weekend of March 17 -20, the members of The Woodlands Show Chorus participated the the Great Gulf Coast Region 10 annual convention and competition at the Houston Hilton North Hotel near Greenspoint.
We joined in the Thursday evening reception for competing quartets. On Friday, we participated in the Mass Sing and our newest members were honored in the First-Timers recognition. That afternoon and evening,  we cheered for all 19 competing quartets. Of those 19, TWSC was represented by 6 quartets! We are very proud of ALL  their performances, but in particular are proud of 4th place medalists RAVE and the 2016  regional champions Live It Up!
On Saturday at 8:00 am,  we met for breakfast followed by a one-hour rehearsal. Then we were off to our hotel rooms to apply our stage makeup, to poof up our hairstyles, and to don our red costumes with accompanying jewelry, off black stockings, and black character shoes. Our makeup and hair experts checked each of us for appropriate, uniform appearance and adjusted our "look" as necessary.
Then we gathered in the lobby to check-in to the backstage traffic pattern. We hummed and kept our voices "warm" until it was our appointed stage time. As we walked on-stage, the excitement was palpable. We had worked hard and prepared to perform for "evaluation only". As we performed, we were felt confident that we were doing what we had planned to do. Seeing Betty's beaming face served to confirm our perception.
Because we were the first competitors, we were able to  listen to the other choruses perform and to cheer them on. The chorus contest was very enjoyable – lots of good singing and some fun comedic performances! After it was all said and done, we gathered in our chorus's hotel suite to review the scoresheets. We were extremely happy to hear the positive feedback from the members of the judging panel. The feedback also pointed out some specific improvements needed such that will be able to achieve even higher scores at the international competition in Las Vegas this coming October.