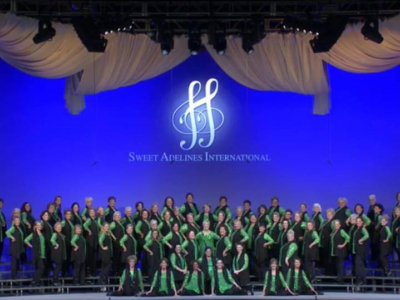 9th Place Chorus - Sweet Adelines International
The Woodlands Show Chorus just returned from the 70th annual Sweet Adeline International Convention and Competition held October 17-22 in Las Vegas, Nevada.  In the Sweet Adeline world this is a Big Deal!  We were honored and excited to represent Region 10 as contestant number 31 in the chorus semifinals on the international stage in the MGM's Grand Garden Arena!  Under the direction of Betty Clipman, our wonderful leader, we fine-tuned our ballad and uptune for the semifinals.  After our performance we took our seats in the audience to hear the remaining three choruses and wait for the judge's results.  The tension builds-everyone in the auditorium that competed is hoping to finish in the top ten.  How did we do???  We made it to the top ten and the joy and elation sent us leaping to our feet!!  Wow!!!!!
The next step is getting our performance package ready for the finals.  Two rehearsals and then we will be on the stage again.  The opportunity to sing twice is so exciting!!  Did I mention there are around 6,000 attendees at this convention?   Did I mention the arena is packed with people to watch the competitors??  We presented a creative and fun package about catching the A Train.  It goes really quickly when you are on stage even with the finals package that is about 14 minutes long.  We take our seats in the audience and see some of the best choruses in Sweet Adelines that we are competing against.  The creativity, the glamor, and the music are spectacular!!  Competition ends and more waiting as the results are tallied.  We are on the edges of our seats and leap to our feet when we are announced 9th place winners!!  Ninth in the world for a chorus that is 4 years old, not too shabby!!  We Are So PROUD!!!
We were there to compete, but it really is so much more than that.  The hard work and rehearsing for a year to get here, the friendships that are forged and rekindled, the joy and smiles, the educational opportunities, the community Sweet Adelines fosters where women of all ages and backgrounds find a common ground in singing and ringing beautiful barbershop chords.  It is a journey and we have only just begun!!