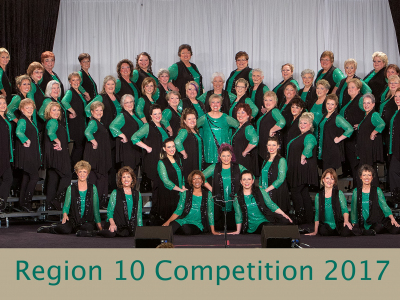 The Woodlands Show Chorus wins again!
Although only five years old, this almost 80-member women's chorus just keeps winning and placing higher each time!  This past weekend, The Woodlands Show Chorus (TWSC) competed in the Great Gulf Coast Region 10 Convention and Competition and won with the highest scores in the region's history.  Region 10 is comprised of choruses in Texas, Louisiana, Mississippi and Alabama.
Since its inception in 2012 as the largest and fastest chartering chorus in Sweet Adelines International (SAI) history, this prodigious chorus won its first two regional competitions with exceptionally high scores.  TWSC competed with good scores internationally in Baltimore in 2014 and achieved top ten placement in 2016 at the international competition in Las Vegas.  TWSC is now feverishly working toward their next international competition in St. Louis, MO, in October, 2018.  If you ask any member of this exciting chorus why she sings, she will tell you it is for the JOY – the joy of striving for excellence through consistent education, training and performance.  TWSC provides a strong purpose for her life outside of her family, work and daily routine.
The chorus chose The Woodlands for its well-known support of the arts and is the only chorus of this type in the area. The majority of its members were drawn to the chorus because of its director, Betty Clipman.  Betty came out of retirement to make her mark on the Woodlands and reclaim her spot in the Sweet Adeline directing world as the Master Director of TWSC. Her global SAI experience spans over 40 years with top level achievements and honors in almost every category across the organization.  She is committed to continuous musical growth for all quartets and choruses through better educational opportunities.  Betty explains, "My vision is to musically educate women of all ages, enabling them to experience the joy of singing four-part a cappella style, through improved vocal and performance skills."
Since its inception, the chorus has performed at many venues in The Woodlands and surrounding areas, such as The Cynthia Woods Mitchell Pavilion, The Woodlands Waterway Art Festival, the 105 Veterans and Lone Star Honor Flight, Bernhardt Winery, MD Anderson's Breast Friends support group at St. Luke's Hospital, as well as several churches and women's groups in the area.
This high achieving chorus' calendar includes:
April 9    Woodlands Waterway Arts Festival
April 11   National Barbershop Harmony Day, Memorial Church of Christ, Echo Lane
July 2       Bernhardt Winery Performance
July 3       The Woodlands Pavilion, Star Spangled Extravaganza
July 15     "Revival!" Show and Supper, Christ Church UMC, Conroe
TWSC offers entertainment and membership options to area residents.  Their music includes special arrangements of today's ballads, classic songs, popular show tunes and mainstream music.  Women interested in joining the chorus should have a desire to perform and must possess the ability to accurately sing a song and hold her part while singing with other parts.  To learn more about this exciting chorus, visit their website at www.thewoodlandsshowchorus.org, or email [email protected].  For membership information, call Sally at 713 208-0863.