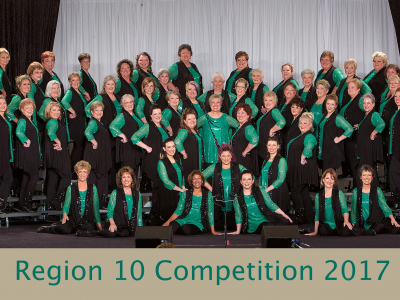 Great Gulf Coast Region 10 - Chorus Champion
The Sky's the Limit - when you dream! This was the theme for The Great Gulf Coast Region 10 competition, which was held March 30-April 1.  What a fabulous weekend!!
April 1, 2017 a day for the history books in The Woodlands Show Chorus!  What did we do that was so special and so memorable?? We crossed over to singing A by obtaining a score of 687!!!  It was all about putting a performance on the stage not just singing our 2 competition songs.  It was such a joy to share our love and our gift with a great audience. and to see firsthand how the efforts of all the Region 10 choruses brought them closer to their dreams!
There was so much to celebrate this weekend with 7 quartets representing our chorus.  Some of these ladies were brand new to quarteting and our hats are off to them for representing TWSC and Region 10 so well!  Our very own Sympatico placed third and Rhapsody placed fourth!  
Claudia Lassiter won the scrapbooking contest as she continues to creatively document everything that is happening in TWSC!!  Her submission even had the chorus singing! 
Congratulations to Karla Fenton who won the Region 10 Hall of Fame Award!!  
Where do we go from here??  Well, under the direction of our beloved Betty Clipman, we have a dream to fulfill so we are gearing up and dreaming big-St. Louis here we come!!  Let the journey continue!!