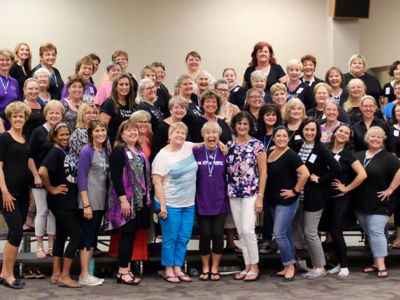 Well, June 26 was another Red Letter day for TWSC! It was a triple whammy:
Carole Persinger and Renee Porzel co-coached (is that a real word?) us and significantly improved the songs – and the singing of - our July show repertoire. They, plus Betty, don't miss a thing, not a thing. We were reminded, yet again, that phrase ends must be supported and lifted, and that quick breaths keep the tone flow going from phrase to phrase. Plus we were described as "sedate" while performing rather energized. So guess what! We sang that song – and a few others – multiple times until we overcame the lethargy and got our Energizer bunny suits on. We did garner a few compliments from Renee and Carole, but they didn't come down here to pump up our egos. They told us the truth and explained how to "fix" each challenge. Thanks, Carole and Renee!
We celebrated the 5th anniversary of TWSC receiving our charter!! By coincidence, Renee was able to attend our charter party so it was extra special  to have her celebrate this anniversary with us.
We inducted 2 new members into our ranks! Earlier in the evening, 2 prospective members passed their auditions , and two new guests were voice-placed (one baritone and one bass)!
Life is good in The Woodlands. Onward we go, preparing for our July 15 show. Y'all come to see us at Christ Church United Methodist Church, 6363 Research Forest Drive, The Woodlands. The details of the show are elsewhere on this website.