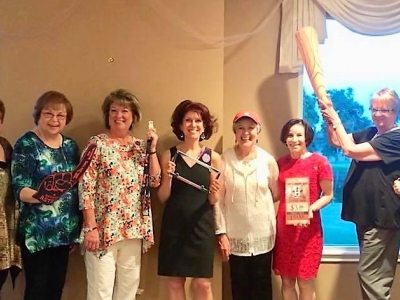 What a wonderful celebration we had at the River Plantation Golf and Country Club.  Janeen did a fabulous job of making the tables look festive, setting the mood for our celebration!  It was a play ball theme recognizing our journey to A and of course our own Astros achieving their dream of the 2017 World Series Title!
We started the evening with the announcement of a new award for the chorus.   The MARY HELEN MCKIRAHAN AWARD will be awarded annually to a member that goes above and beyond to love and care for those in the chorus. Their small acts of kindness are done without expectation of recognition.  This award was announced and presented by Sally Ison to Mary Helen McKirahan.
Our own Betty Clipman renewed her contract with the chorus.  We are so lucky to have her!!  Betty is our inspiration and our JOY!!
Next was the installation of the new management team.  Carin Williamson did an amazing job keeping with the baseball theme by sharing how the Astros management contributed so much in bringing the team to the World Series.  Each TWSC management team member will be striving to support our TWSC team on our journey to A and to the St. Louis finals!
We had the BIG REVEAL of our new costume modeled by the gorgeous Adrienne Bean.  It is dazzling, and I know we can't wait to wear it on stage!!!
Of course, we had entertainment-Glitz and Center Stage- two of our quartets performed for us.  For some comedic relief we had Live It Down-performing a parody-Gee St. Louis is Near, of one of our repertoire songs.
There were numerous awards for many of the talented women in the chorus and then we waited in anticipation to find out who won Sweet Adeline of the Year.  Drum roll please……
Kerri Mauney and Jennifer Scogin
Congratulations to these two ladies who work so hard to help us improve our performance level. These ladies are so talented and dedicated going above and beyond to give to TWSC!!!!