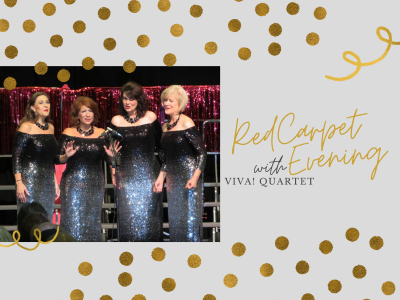 A Casual Evening of Red-Carpet Entertainment by Pat Hummel
Long before our July 13 casual evening of red-carpet entertainment, the show committee was hard at work planning and scheming; what worked before, what can we do better? The three keys were: make it a memorable event for our audience, a rewarding afternoon for chorus members, and make a goodly amount of money to help offset our many expenses throughout the year.  We succeeded on all keys.
Guests entered on a red carpet and were escorted to have their picture taken which then appeared on the big screen. People loved that. Then it was on to the wine and cheese serving tables.
What a show it was with the Woodlands Show Chorus singing their best and 6 quartets, including the fabulous Viva!, first place International Champions.  With such a lively and appreciative audience, it's no wonder our chorus members also enjoyed a great afternoon. We sold 434 tickets, had a very successful silent auction, and generous donations. This was our first wine and cheese experience and it was very well enjoyed by our audience. So many comments of "What a good idea" and many other compliments.  We were rightly proud of ourselves that day.
Many thanks to Brenda Anderson for holding the key of knowledge to orchestrate the entire show. And many thanks to the key people who, with lots of help from chorus members, helped to make the day the success that it was.  It was our best show ever.