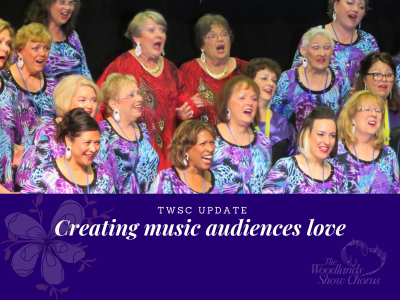 Well, in the months of July and August, the members of TWSC have been busy and happy, performing and rehearsing. On July 3 we performed as the opening act for The Houston Symphony at the Cynthia Woods Mitchell Pavilion in the Woodlands. Then on July 7, we performed at the patriotic celebration at the Bernhardt Winery.  
Then on July 13 we presented our annual show entitled 'TWSC LIVE: A Casual Evening of Red Carpet Entertainment'. Several chapter quartets performed in addition to our guest performers: 2019 International Silver Medalist Quartet Viva! They were the icing on the cake! As luck would have it, the day of the show coincided with National Barbershop Music Appreciation Day. Patty Cobb-Baker, tenor of Viva, is also our International President. Patty read the proclamation describing the significance of the special day. This activity was streamed live to our TWSC Facebook page.
The months of August and September have been spent learning new music for our holiday show in November. One of our goals is to keep our audiences interested in continuing to support us by attending our shows. The new music is fun and we're enjoying the learning process. We would love to see your happy face on mid-November. Please check our Facebook page or here on the TWSC webpage to get the information about where and when.