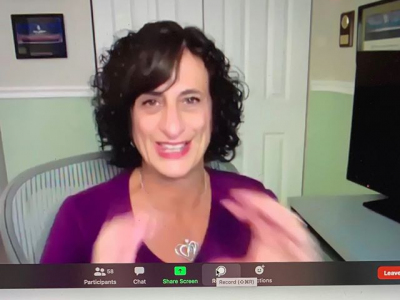 TWSC LOVES THIS WOMAN! Renee has been with us from the beginning, coaching, advising, might I say nurturing us? Yes! Nurturing, teaching, and at times kicking us in the rear to get us where she and Betty knew we could be if they were just patient enough to see it happen. Renee was with us on ZOOM tonight.
Renee is family. All of our coaches are like family, but this just had that warm, fuzzy, fun feel. Renee has a way of doing that. And talk about making everybody feel comfortable, welcome, and at the same time, engaged, and learning. Wow! She talked about choruses on stage being able to put their audience at ease. Renee had an audience of TWSC tonight, hanging on every word and totally at ease, and yet she made it interactive so we had to think. She gave us a crash course in judging, and let us practice. That was an eye-opening experience, to say the least. We all loved every minute with her and learned so much.
Stay well, Renee. This 75-Year-Old organization of Sweet Adelines International, (birthday today) needs you. We need you. Betty needs you. Heck, everybody needs you! Thank you for loving us, teaching us, encouraging us, and helping us. And last but not least, thank you for saying, "Y'all!" Yes, folks, this Chicago girl said, "Y'all".