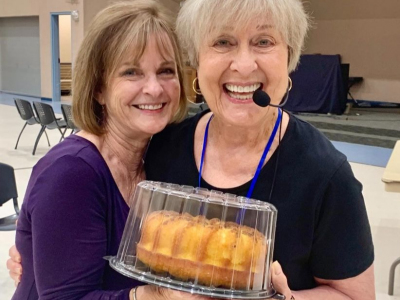 Monday night is a wonderful evening of song with The Woodland's Show Chorus! We are polishing our music for upcoming Sing outs and performances.  (Details coming soon!) In addition, we are learning new songs.
We have also started making movement adjustments to some of our favorites to fit with the new visual communication category. I think it's interesting to realize these new expectations create more freedom of expression and renewed energy to the song. Thanks to LeRae LaVergne for helping us get started with thinking about this different way of performance.
One of our favorite times of rehearsal is when we are "dueting" during a sectional. We will be focusing on sections and switching sections combining with a different part. Since I'm singing baritone, so I think I like it best with bass and baritone! But, wait, it's pretty cool to duet with lead too, especially when we are doing all the rubs. (Sorry, tenors, no comment… love ya, mean it!) Dueting has been really helpful in finding our unit sound again.
Because we like to celebrate birthdays, August is really a special month. Betty Clipman's birthday happens to be in August, and this month, during our rum cake birthday give away all the other August birthday girls were out of town. Well, BETTY got the cake! Then the following week, we had a special celebration for our "Queen B" with balloons and cookies, plus a Starbuck's card and some earrings. Happy birthday, Betty, with love from your "hive."

Contributed by Phyllis King